Big Apple Props 3D Modeling Process

3D modeling is a technique that uses sophisticated technology to produce a physical 3D representation of any object or surface. Because of this versatility, 3D modeling is used in a variety of industries and careers. Utilizing our 3D CAD software and 3D printing services, the pros at Big Apple Props are able to make your ideas a physical reality.

Do you have an idea for a prop that isn't fully formed? Maybe just a rough sketch or description? Our 3D model makers can help flesh out your idea and bring it to life. Objects that don't yet exist in the real world need to be created by an artist before we can send it to our 3D scanner for printing. At Big Apple Props, our digital artists are creative specialists who are capable of collaborating and making anything you need when provided with a reasonable description. They'll work up a digital model of your object, known as a 3D render, and send it to you for your review.

If you have ever watched how Disney or Pixar animation is created, then you have seen 3D rendering play out on some level. Just like Pixar and other studios have "pre-animation" stages such as rendering, where they can "pitch and rehearse" the animation before going to the immense expense of creating the movie, we also create a rendered digital copy of your 3D model as a sort of proposal (or 3D prototype) for you to review. Once everything meets your specs and is just how you want it, our digital artists output the 3D rendering to our foam cutter to create incredible 3D props, models, characters, prototypes, and much, much more!


In addition to the many advertising and marketing applications for our 3D props and models, we have experience creating 3D prototypes and models for a wide variety of other industries that use our rendering services. Here are just a few of the industries that have benefited from our 3D characters, props, and modeling services.
Film, TV & Theater
3D Characters & Props
Stage & Set Design
Themed Environments
Theme Parks & Attractions
3D Characters & Props
Themed Environments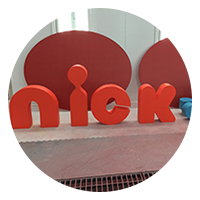 Attractions
3D Characters & Props
Themed Environments
Museums
3D Characters & Props
Themed Environments
Exhibits
Scenic Decoration
Home Decor
3D Characters & Props
Themed Environments
Architectural Design
Holiday & Party Decor
Check out our galleries of foam work:
3D Characters & Props
3D Signs & Logos
Themed Environments
Stage & Set Design
Exhibits
Architectural Molding
3D Prototyping
Want to see our work? Check out our gallery that shows off some of our custom creations. While this gallery will give you an idea of the stunning 3D characters, props, and models we have made in the past, keep in mind that we can handle completely custom projects and create practically anything you can imagine.
If you already own a scan of what you need, you can upload your 3D scan or design for us to check out and create a game plan. Don't worry if you do not have an electronic file of your model; we enjoy leveraging our experience and knowledge to help you flesh out your ideas for props and characters. If you prefer to describe what you want, you can send us a description, and we'll give you a free quote.